What Is Green Making?
Green Making is the local community for building green homes. We connect you with those nearby that also want to improve the construction, remodeling, and use of homes using ecologically-friendly, sustainable methods. These green methods:
Make homes more energy efficient.
Create homes that are healthier to live in by excluding toxins and other health hazards.
Reduce the burden on the environment by taking less from nature and giving back more in a form that allows nature to thrive.
Support modes of living that are more sustainable, healthier, and less demanding of the environment.
Our focus is local. The greenest efforts are those that minimize physical travel and transportation. Resources on this site are tagged according to their geographical location, based on about 1,000 geographical statistical areas in the United States.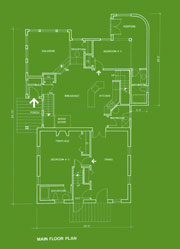 Green Making sponsors an online forum that brings together many online and in-person communities. This forum helps you find and communicate with people near you that share your interest in making a sustainable home. You can locate people that have begun a green building project; professional architects, builders and remodelers; suppliers of goods and building services; real estate agents; and others who share your interest in "green making", that is, making our residential environment more environmentally friendly and energy efficient. Here you will find the opportunity to dive in and discuss common issues, to write about your experiences and desires for a better home. Through those discussions and access to resources we hope you will get to know and become friends with those around you that can provide the resources you need to achieve your own goals. And, we hope to advance the use of green building practices. We encourage you to sign up with us and start participating in our groups. (If you are not logged in, you should see a "Sign-Up" link in the Login block to the left.)
For your convenience, Green Making provides specific and useful information about green building suppliers, techniques and materials. We do that by selecting links to resources that are pertinent to the geographical area and needs of builders. We also supply current news that prepares you for the technologies and materials that may impact your business or building plans in the future and examples of homes so you can think through the options.
Select "Table of Contents" from the navigation bar, above, to see a complete listing of the resources available. For more information on how to use the site, please click on the Help link, below. We are dedicated to growing the best green techniques and materials for the residential building trades. To find out more about the future of the site and to tell us what you'd like to see, go to our site future pages.
Many have made "green" a way of life. Why did you choose green? We think there are many reasons for moving to the green lifestyle.
Whatever your reason, thank you for visiting Green Making.
Note: Currently, the focus is on the San Francisco Bay Area. If you live or work outside the Bay Area, please contact us and let us know. We would like to bring our services to other areas with information tailored to those locations.